Happy Friday! Without further ado, here are five things I'm loving this week.
ONE.
These PJs.
I've been loving Hanna Andersson PJs for FOREVER but haven't actually bought any for myself (we've always ben gifted them - thank you Nanny!!!). But I am LOVING the ones on the far left. I mean, how cute would Mason be in those PJs with the car and the Christmas tree? Plus...bonus is he can wear them for months after Christmas also (Christmas PJs on Valentine's Day for the win)!
TWO.
Staircase racetrack.
How awesome is this?! We have a staircase and I totally want to do this for Mason!
THREE.
Christmas gifts.
I was pursuing Pinterest one night and I came across this. I LOVE IT. I'm trying to be more meaningful in my gifts to Mason because he definitely doesn't need toys, toys, and more toys. I was already thinking of clothes as a gift as well as some books, but I really wanted to be meaningful in the other gifts I give him. I did get him a toy already also so that just leaves the "need" gift. While "need" can be defined many ways, and while he doesn't
need
his room to be changed at all, I thought it was about time that we actually transform his room into the
big boy room that I have been talking about forever
. Hopefully I can find everything I am looking for :)
FOUR.
Secret Santa Mommy and Me Book Exchange.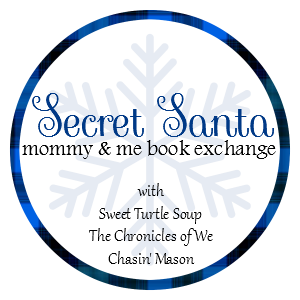 If you're participating in our Secret Santa Mommy and Me Book Exchange, please don't forget that TODAY is the last day to send your books to your Secret Santa!
FIVE.
San Diego.
After a few short hours of work today, I am off to San Diego to meet these lovely ladies!
so. excited!
(and one more... did anyone else watch How to Get Away with Murder last night?? Holy WOW. Why do we have to wait until January 29th to find out more??)
Happy weekend!
***
Linking up with these lovely ladies.